This blog will give some tips & tricks on SAP netweaver gateway FIORI from the basis perspective.
Questions that will be answered are:
Where can I find information on Netweaver Gateway FIORI deployment options?
Where can I find overview of all the SAPUI5 versions and its support status?
Which versions of SAPUI5 does my system currently have?
How can I find a version of any standard SAP app?
How do I clear caches in case of issues and or new deployments that cause issues?
How to recalculate app indexes?
How can I get statistics on the use of the FIORI apps?
How to integrate google analytics into FIORI?
How can I see 3D in FIORI apps?
SAP netweaver gateway FIORI deployment options
SAP netweaver gateway FIORI can be run into 2 modes:
Embedded in application sever
As central hub
The considerations for embedded or central hub are kept up to date by SAP in this blog. The blog also contains the most recent version of document "SAP Fiori Deployment Options and System Landscape Recommendations".
Please take note that SAP has a new recommendation per S4HANA1809 to go for embedded deployment.
SAPUI5 version overview current and planned
The most recent SAPUI5 version overview and support status of each version can be found here.
Future SAPUI5 versions and planning can be found here.
SAPUI5 version in your server
To check you own servers SAPUI5 version construct following URL:
http(s)://<your server><your port>/sap/public/bc/ui5_ui5/index.html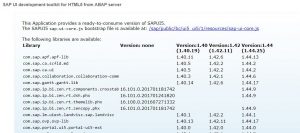 Main versions are delivered in new netweaver releases and/or support packages. There is a special blog written on the subject of last digit patching.
Finding version of a specific standard SAP app
If you want to know the version information of a standard SAP app, you simply click on the Information button in the personalization when you in the app: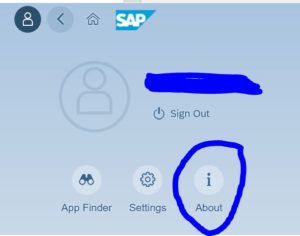 Then the version information is shown: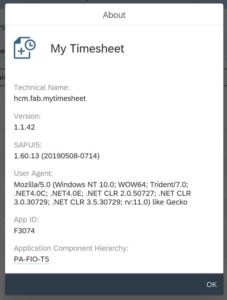 More information can be found in OSS note 2835783 – How to Know App Version and Minor version.
Resetting UI caches
If you have done support pack or last digit patch it is wise to reset the caches as admin. To do this start SE38 and run the following 3 programs in the frontend server:
/UI2/INVALIDATE_GLOBAL_CACHES
/UI2/INVALIDATE_CLIENT_CACHES
/IWBEP/R_MGW_MED_CACHE_CLEANUP (run on backend and frontend)

And goto transaction SMICM, then select  Menu, Goto -> HTTP Plug-in -> Server Cache -> Invalidate Globally.
On the backend server start transaction /IWBEP/CACHE_CLEANUP.
More background on all the caches can be found in this blog.
Further clean up:
/IWBEP/REG_SERVICE (run in backend to clean up specific service cache)
/IWFND/MAINT_SERVICE (run on frontend and reload the metadata)
Front end server clean up programs: /UI2/CHIP_SYNCHRONIZE_CACHE, /UI2/DELETE_CACHE_AFTER_IMP, /UI2/DELETE_CACHE, /UI5/UPDATE_CACHEBUSTER
Note on the cache cleanup: 2319491 – How to clean up the cache after applying changes that affect SAP Fiori apps.
Recalculating app indexes
Recalculation of app indexes is needed after an upgrade or support package installation with new apps. Also when you install extra addon this is needed. Another use case is when you have deployed your own new app via transport or when you applied a large OSS note with new app code via transport. Program to run is: /UI5/APP_INDEX_CALCULATE. You can run for single app. Or after support package: run in full. It is wise to have this program run in delta mode at least daily.
Set default theme and reset user theme setting
If you have a custom theme created you can set it as default for everybody. For instruction see this blog. This blog also describes how to reset a users' theme setting in case of issues a user might have after upgrade (grabled screen).
OSS note for troubleshooting
SAP has an updated document for the most common troubleshooting tasks. It is kept as PDF attachment to OSS note 1797736 – Troubleshooting Guide for SAP NetWeaver Gateway.
Statistics on the use of FIORI apps
If you want to know more on the actual usage and statistics of the FIORI apps in use, please read OSS note 2629143 – Best practices to gather Fiori usage statistics for on-premise systems.
Integration of google analytics into FIORI
To integrate google analytics into FIORI, follow the instructions in OSS note 2444406 – Google Analytics Integration with SAP Fiori.
FIORI 3D visualization demo
For a demo on 3D visualization using FIORI element goto SAP web page and load the attached file: SAP Pocket Knife (unzip before use):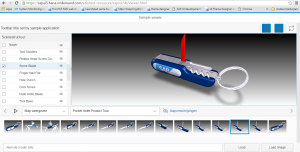 The advantage of using the FIORI element to show 3D visualization is that you don't need to install the fat client for 3D viewer on your laptop or desktop.
Further tips
Older troubleshooting blog .
For performance and trouble shooting tips see the SAP wiki on FIORI issues.
For S4HANA specifically you can go to the dedicated SAP wiki for FIORI S4HANA.