This blog will give tips and tricks on batch jobs.
Questions that will be answered are:
How to check a job is not running already before starting new one?
How to build in a wait step into a batch job?
How to set the RV variables automatically in table TVARVC?
How to validate that the basic batch job system is working ok?
How to analyze the jobs running in my system?
How to mass stop and start batch jobs?
How to set up batch job interception?
How to ignore large spool output of batch jobs?
Prevention of same job still running
If you want to prevent same job from starting, while a previous instance is still running, you need to add program RSBTONEJOB or RSBTONEJOB2 as first step in the batch job. This step will detect if the previous instance is still running and abort to avoid the next steps from being executed. More background in OSS note 557610.
Forcing a batch program to wait
If for some reason you need a batch program to wait between steps, you can use program RSWAITSEC as a step. This program will only do a wait for x amount of seconds.
Setting current date in the TVARVC table for the RV variables
The RV variables for current date, month and year are often used in month end closing batch jobs. Running program RVSETDAT will set the current dates for RV TVARC variables.
Checking basis background job system settings and working
If you want to validate if the background job system function itself is working properly, start transaction SM65 background processing analysis tool.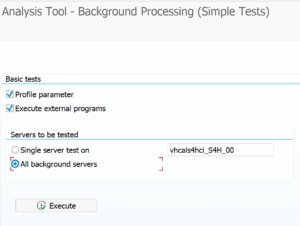 Result is shown correct working, number of batches and wait time: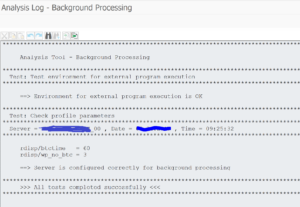 Background job analysis tool
Start transaction ST13 and start tool BACKGROUND_JOB_ANALYSIS. Or directly start program /SSA/BTC.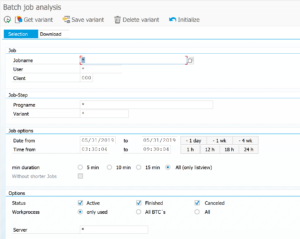 Pending on your selection you get a graphical overview or a full list for you to speed up your analysis.
Mass stop and start of batch jobs
Programs BTCTRNS1 and BTCTRNS2 can be used for mass forced stop and start of batch jobs. See this
blog
for more details.
Batch job interception
For more information on batch job interception, please read this blog.
Ignoring large spool output of a batch job
In some cases a batch job will generate a large amount of spool output which is clogging the spool system, but is never used. In this case you can set up the job to put the output to output device NULL. For setup read this blog.
Check job step users
If you want to quickly check which user ID 's are use inside batch job steps, it is best to quickly go to table TBTCP. Here you can quickly see across many batch jobs which step users are used.