This blog explains how to mass stop and mass start batch jobs as admin. This especially usefull putting the SAP system in maintenance mode. Maintenance mode can be needed for upgrade, support package patching or data conversion.
Questions that will be answered are:
How to mass stop batch jobs?
Can I plan new jobs I need during the suspend mode?
How to mass start batch jobs again?
Stopping all batch jobs for maintenance mode
Stop all batch jobs: start transaction SE38 and start program BTCTRNS1.

All currently planned jobs will be put into a Released/Suspendeded mode: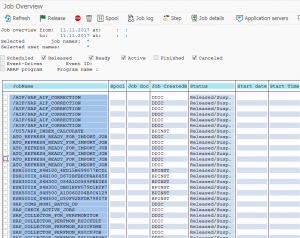 This means the already planned jobs (periodically or not) will not be started.
During this suspend mode new jobs can be planned by admin. These new jobs will be executed.
Starting all batch jobs after end of maintenance
Start all batch jobs again: start transaction SE38 and start program BTCTRNS2.